If you are wise,Wheeled-Mounted Mobile Impact Crusher will be your best choice.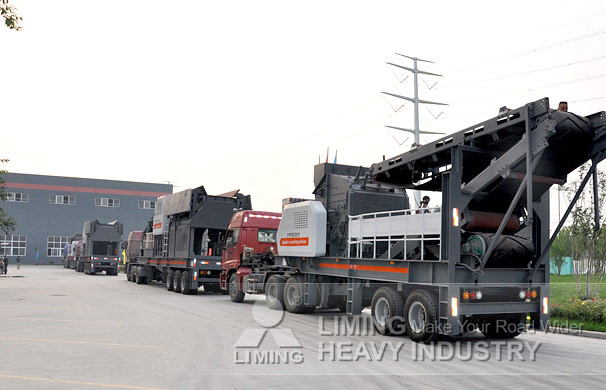 Wheeled-Mounted Mobile Impact Crusher'S Overview:
Wheeled Impact Crusher is often used in the site where you may need to change working site often, especially when you process stones used in high way, railway and so on. Therefore, Mobile Impact Crusher needs to be designed specifically for clients according to different materials, scale and requirement of the final products. Wheeled Impact Crusher can be applied in the industry of metallurgy, chemical, building materials, water power station. The integration unit is easy for installation and maintenance. This makes the whole Wheeled Crusher Plant take the features of longer working time and higher durability.
Wheeled-Mounted Mobile Impact Crusher'S Features:
1. World-level manufacturing technology is adopted, and highest-level raw material is used.
2. Central lubricating device are installed on the machine, so the bearing is easy to be lubricated.
3. Adjustment of the discharge part is more convenient.
The adjustment methods: gasket adjustment, hydraulic assistant adjustment, wedge block and wedge hydraulic adjustment.
4. More advanced movable jaw assembly lengthens life of crusher.
Movable jaw assembly is made from cast piece with high-quality, is driven by two large flying wheels which are made from cast steel. Moreover, heavy eccentric shaft is processed by forged mold. All of these make the JC series jaw crusher extremely reliable.
5. Integral cast steel structure is adopted for bearing seat. Integral cast steel bearing matches well with the crusher frame, at the same time, radial strength of the bearing seat is highly strengthened. However, the separate bearing seat does not have this advantage.
6. Finite element analysis technology is adopted to make the crusher much stronger.
7. Crusher chamber adopts "V" structure which could make actual feed width comply with the nominal one.
8. Bearing with larger model and higher load are used. All JC jaw crusher is equipped with larger bearing compared with same model of normal jaw crusher. Its higher load capacity and effective oil seal will lengthen the life of bearing.
9. A newly designed tooth-shape side plate, makes the available area of jaw plate longer, and enhances the capacity.
10. Pressing bar and support type are used to fix jaw plate.
11. Heavy type protecting plate is intalled for bearing seat, accidental damage of bearing seat is avoided.
12. Supporting bar under jaw plate protects movable jaw and frame from being worn down.
Wheeled-Mounted Mobile Impact Crusher'S Highlights:
(1) Compact design and integrated unit. Screening equipment, belt conveyors, impact crusher and other auxiliary equipment are mounted together in one truck trailer
(2) Trailer mounted and easy for transportation
(3) Automatic operation and easy maintenance. Mobile crushing plant is controlled by electrical control panels. And it is mounted with convenient equipment, such as elevator which facilitates the maintenance and operation monitoring.
(4) Flexible and efficient. As mobile crusher is integrated, so it can work independently. Besides, according to different material types and final product requests, mobile crushers technical plan are adjustable.
(5) With support legs on the trailer (or track), easy for installation
(6) Truck trailer-mounted motor and electrical control panel is integrated and compact
Wheeled-Mounted Mobile Impact Crusher'S Working principle:
When the mobile impact crusher work, the rotor rotating high-speed under the motor is drove, then the materials into the function area of plate hammer and impact crushing with the plate hammer in rotor. Later break again in the counterattack device. And bounce back the plate hammer function area again to break from the counterattack foils.  This process is repeated, until the materials being broken into the needed particle size and deduction by the discharging mouth.
Wheeled-Mounted Mobile Impact Crusher'S  Specifications:
Technical Data\Model
YG938 FW1214Ⅱ
YG1142 FW315Ⅱ
YG1349 FW318Ⅱ
Transportation size(mm)
11900×2650×3850
13500×2780×4150
15200×2950×4300
Weight(t)
41
52
61
Tire Configuration
Dualaxial
Triaxial
Triaxial
Impact Crusher
PFW-1214Ⅱ
PFW-1315Ⅱ
PFW-1318Ⅱ
The Maximum Feeding Size(mm)
500
600
700
Capacity(t/h)
130~200
180~320
240~400
Vibrating Feeder
GZD960×3800
GZD1100×4200
GZD1300×4900
Main Belt Conveyor
B800×8.5M
B1000×9M
B1200×9.5M
Side Belt Conveyor (optional)
B450×3M
B500×3.5M
B650×4M
Electric control
standard
control box + control panel
control box + control panel
control box + control panel
optional
Control box + LCD
Control box + LCD
Control box + LCD
Hydraulic leg
standard
4
4
4
optional
2
2
2
Hydraulic cyclinder
standard
4
4
4
optional
5
5
5
Genset (optional) (Kw)
270
380
440
Iron Separator (optional)(Kw)
RCYD(C)-8
RCYD(C)-10
RCYD(C)-12
Any change of technology data shall not be advised additionally.