VSI Sand Making Machine introduction:
VSI sand making machine (also named VSI vertical shaft impact crusher) is newly developed equipment, based on our engineers' many years' R&D, absorbing the advanced technique overseas, with international advanced stage. It is of high efficient energy-saving crusher. Its good performance plays a irreplaceable role in the crushing of all kinds of ores. This crusher is widely used in crushing and reshaping of metallic and non-metallic ore, building material, artificial sand and all kinds of metallurgical slags.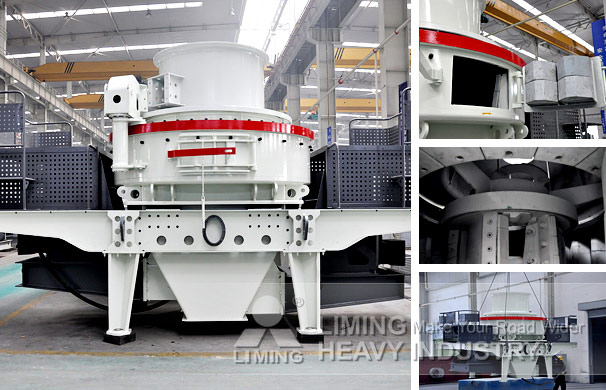 VSI Sand Making Machine superiority:
1. Large processing capacity and high output -50-500t/h. The output is increased by 30% compared with traditional equipment under same power and it is stable.
2. Low consumption of wearing parts — with optimal hitting-angle design for material of crushing cavity and little friction with wear resistant parts, the operation expense is lower than that of traditional equipment by 30%, which directly decreases using cost of equipment.
3. Excellent grain shape of product — product is in cubic shape with good grain shape, reasonable gradation and adjustable fineness modulus; it is especially applicable to man-made sanding and stone shaping. Practice shows that: its sanding and shaping effect are higher than that of other traditional equipments improved by 30%.
4. Hydraulic device and easy maintenance — hydraulic hood opening device makes internal parts of crushing cavity be conveniently and rapidly maintained, dismantled and changed, which shortens dead time and saves both time and labor.
5. Automatic detection, safety and reliability — having set over vibration display and warning device, which will give out warning to make equipment stop working if bad operation occurs on equipments, thereby reaching the purpose of protecting machines.
6. Thin oil lubrication and automatic maintenance — German original thin oil lubrication station, double oil pump is supplementary to each other to guarantee oil supply; automatically power off if there is oil flow and oil pressure; oil fluid cooling and heating device can guarantee that bearing lubricating is always under the best status, thereby thoroughly solving problems such as bearing heating, keeping spindle bearing at constant temperature, prolonging maintenance intervals and service life.
7. Simple and convenient installation and easy operation — light weight of equipment, various installation modes and mobile type installation; simple installation, maintenance and convenient operation and use; as soon as concrete usage is confirmed, you will only need to make fine adjustment on VSI sand maker, which will give play to outstanding performance to the utmost extent.
VSI Sand Making Machine Working principle:
VSI Sand Making Machine adopts advanced principle of selective crushing and cleavage fracture crushing; impressing enough kinetic energy to materials; Impacting strength will convert kinetic energy to crushing energy. Materials will break through the natural lamination and physical edge. It has the features of better shape of final products, but less cost. This machine can realize two working principles' conversion with "crushing between materials" and "crushing between materials and liners".
If you want to get more, please feel free chat with our online service.