Jaw crushers are typically used as primary crushers, or the first step in the process of reducing rock. The PE series Jaw crusher is widely used in mining, metallurgy, building materials, road, railway, water conservancy and chemical industry and other industries.kefid  is at the absolute leading level at home and abroad  in the design and production of large jaw crusher.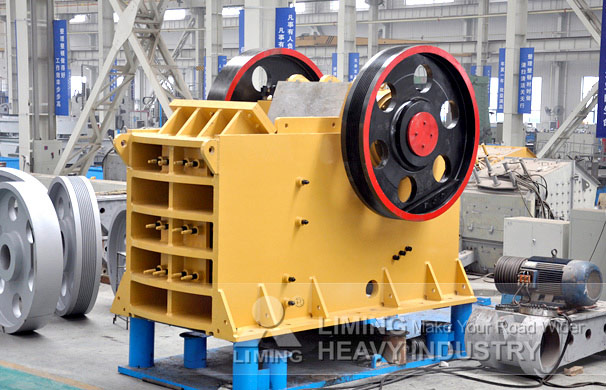 PE Series Jaw Crusher's   Overview:
PE Series Jaw Crusher is mainly used for crushing various ores and large materials with compression strength not more than 320Mpa into medium-sized grains. Jaw crushers of our PE series are used as primary crusher and secondary crusher since they can achieve coarsely crushing and fine crushing. It can process large stones with large capacity primarily and thus become the first choice for primary crushing. We have produced PE series jaw crusher based on many years of research and integrated with successful experience of the same product at home and aboard.
PE Series Jaw Crusher's  Features:
1. World-level manufacturing technology is adopted, and highest-level raw material is used.
2. Central lubricating device are installed on the machine, so the bearing is easy to be lubricated.
3. Adjustment of the discharge part is more convenient.
The adjustment methods: gasket adjustment, hydraulic assistant adjustment, wedge block and wedge hydraulic adjustment.
4. More advanced movable jaw assembly lengthens life of crusher.
Movable jaw assembly is made from cast piece with high-quality, is driven by two large flying wheels which are made from cast steel. Moreover, heavy eccentric shaft is processed by forged mold. All of these make the JC series jaw crusher extremely reliable.
5. Integral cast steel structure is adopted for bearing seat. Integral cast steel bearing matches well with the crusher frame, at the same time, radial strength of the bearing seat is highly strengthened. However, the separate bearing seat does not have this advantage.
6. Finite element analysis technology is adopted to make the crusher much stronger.
7. Crusher chamber adopts "V" structure which could make actual feed width comply with the nominal one.
8. Bearing with larger model and higher load are used. All JC jaw crusher is equipped with larger bearing compared with same model of normal jaw crusher. Its higher load capacity and effective oil seal will lengthen the life of bearing.
9. A newly designed tooth-shape side plate, makes the available area of jaw plate longer, and enhances the capacity.
10. Pressing bar and support type are used to fix jaw plate.
11. Heavy type protecting plate is intalled for bearing seat, accidental damage of bearing seat is avoided.
12. Supporting bar under jaw plate protects movable jaw and frame from being worn down.
 PE Series Jaw Crusher's  Highlights:
1. Crushing cavity is deep and there is no dead area, which improves feeding capacity and output;
2. High reduction ratio and uniform final product size;
3. Spacing piece type discharge-hole adjustment device is reliable and convenient;
4. Reliable and safe lubrication system, convenient replacement of parts and small work load of maintenance;
5. Simple structure, operational reliability and low operation cost
6. Energy-saving: single machine can save energy by 15% to 30%; the system can save energy by over 30% to 60%;
7. Large adjustment range of discharge hole can meet the demands of different users;
8. Low noise and little dust;
9. Simple structure, convenient maintenance and use; stable performance, low operation cost; high reduction ratio.
PE Series Jaw Crusher's  Working principle:
The motor drives pulley, making the movable jaw does periodic movement through eccentric shaft. The angle between toggle plate and movable jaw increases when the movable jaw moves up. So the movable jaw closes to the fixed jaw. The stone is crushed in this process. The angle of jaw crusher between toggle plate and the movable jaw decreases when the movable jaw moves down, the movable jaw of jaw crusher moves away from fixed jaw by the pulling of rod and spring, the crushed stone is discharged from the outlet of jaw crusher.
 PE Series Jaw Crusher's  Applications: 
1.   PE Series Jaw Crusher Used in aggregate production
When it comes to aggregate production the overhead-eccentric, PE Series Jaw Crusher is the machine of choice. These crushers are capable of higher outputs than a double toggle crusher but are also less effective at processing abrasive materials. This makes them well-suited for handling the workload of aggregate production, where the materials are likely to be more uniform and weaker than those encountered in mining and construction.
2.  PE Series Jaw Crusher Use PE Series Jaw Crusher to crush ores
From mining out of ore block are very big. At present, open-air quarried ore blocks maximum size for 1000 ~ 1500mm, underground mining out of ore blocks maximum size for 300 ~ 600nm fragmental such great ore cannot directly satisfactions.Orecrushing job usually adopts jaw crusher. PE Series Jaw Crusher can achieve coarsely crushing and fine crushing.
3.  PE Series Jaw Crusher widely Used in lime stone crushing
The lime stones, which are fed to the crusher hopper, are crushed by PE Series Jaw Crusher up to size of about 100mm maximum. Again Stacker & Reclaimer will crush the material properly and this crushed raw material is taken by conveyor belt in to the silo.