B6 Series best concveyer which widely applied for Aggregate Field, Concrete Mixing Plant, Dry Mortar Plant Desulfurization, Quartz Sand making industry.
Many mining industry need the whole crushing plants and auxiliary equipments.
Type: Necessary Equipment
Input Size: 1.3-2.0 m/s
Processed Materials:
River Gravel, Granite, Basalt, Quartz, Iron ore, Diabase, Limestone, Coal Gangue etc. .
B6 series Belt Conveyer instructions:
Belt conveyer is a kind of machine that to transfer the material continuously. The belt works under the effect of frictional force. It is not only the components to transfer the material, but also the components to transfer the force.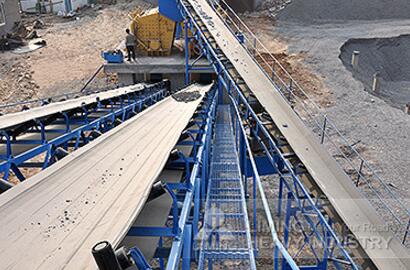 B6 series Belt Conveyer technology overtviews:
The belt conveyer is advanced and simple in structure, easy to maintain. Its transfer capacity is high, transfer distance is long. They are widely used in mining, metallurgical and coal industry to transfer sandy or lump material, or packaged material. In many situation, it Is a very important component of nonstandard machinery.
B6 series Belt Conveyer working principle:
B6X series conveyor belt conveyor to make traction and bearing components, material handling equipment for continuous conveyor belt movement by carrying materials. Conveyor belt passed around the drive roller and tensioning roller forming Promise endless belt from the upper and lower conveyor rollers to limit deflection sag support belt, the belt tensioning device is running to provide the desired tension. Work drive means driving drum, drum drive by friction between the belt and the belt drive is running, the material is mounted on the belt conveyor and move together.