No dust construction waste processing production line
Common construction waste material :
New materials of reinforced concrete, abandoned sintered brick, brick, abandoned inside/outside decoration materials (stone chips, ceramics/broken), mortar powder, mortar powder, old steel, wood, glass, plastic, paper, and a variety of packaging materials and so on;
New buildings scattered mortar, concrete, grooving of the waste residue, the building of the damage in the process of building materials, inside/outside decoration leftover material and so on.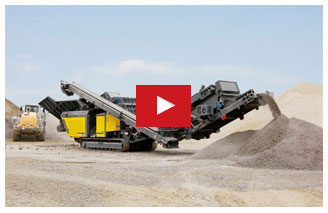 Construction waste handling common problems facing the dust pollution is serious, operators in the process of construction waste broken to a full range of sealed armed to near the construction waste disposal site.
Few dust construction waste treatment system in both in construction waste crushing and screening will not appear in the process of dust pollution, simple operation workers take a mask can, can not even wearing a mask equipment operation, there may be many customers doubt why other factory have the equipment of dust and you said no, the real reason is that we will be the global leader in dust suppression system solution into the research and development of DPF mobile crushing station, fixed construction waste crusher, crawler mobile crushing station of a complete set of system, in the inlet and discharging mouth of the construction waste are equipped with advanced dust suppression device.