Tooth plate is a part of the jaw crusher relatively easy to wear, in order to prolong the life of the tooth plate, experts assiduously, to combine the advantages of the tooth plate and practical experience, we made the following extended jaw crusher tooth plate life Improvement measures:
First, to improve the way the eccentric shaft means: the eccentric shaft means traditional jaw crusher is hoisted to negative suspension, not only to improve the overall performance of the crusher, and the tooth plate can prolong life for about 50%.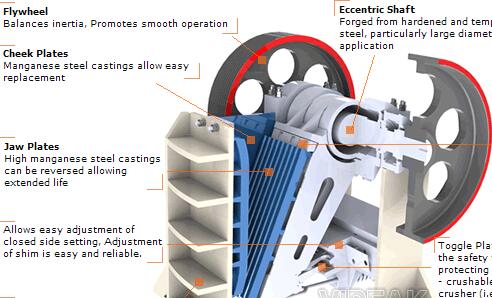 Second, improve the thrust plate method: Star Heavy Industries will traditional jaw crusher thrust plate inclined to the inclined, because moving jaw tooth plate has a downward component in motion crushing stroke, the upper inclined there in favor of the broken material, which makes the material down the drain discharge, reduce congestion, this increase in production, but also greatly improved the degree of wear of the tooth plate.
Third, changing the moving jaw Quantity: traditional single moving jaw jaw crusher to double movable jaw, between two such longitudinally movable jaw relative movement close to zero, eliminating the longitudinal tooth plates from the characteristics of the movement mechanism relative motion, reducing the tooth plate wear, prolong its useful life more than three times, and the resulting very considerable economic benefits.
Fourth, improve the structure of the tooth plate: when the tooth plate design is more attention to detail, such as the design approach taken vertically symmetrical structure, so after wear can turn around and re-use again.