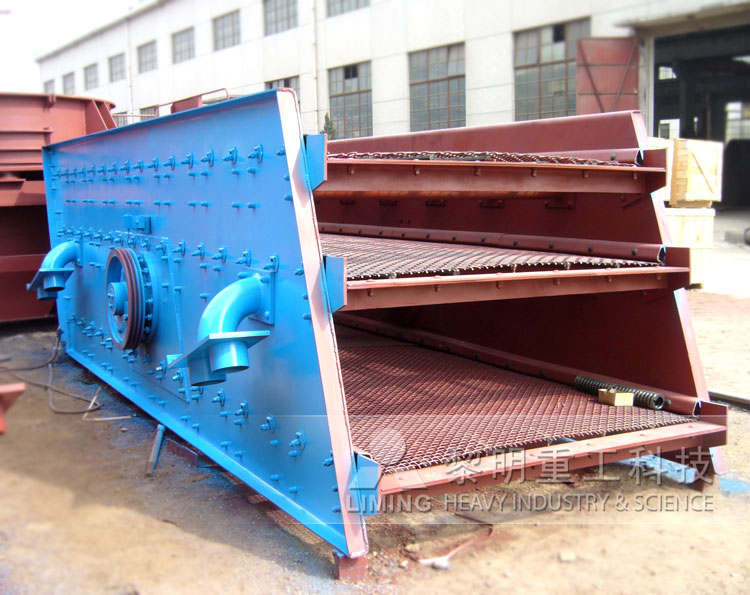 Circular Vibrating Screen'S introduction:
The circular vibrating screen is a high-efficiency and new-type vibrating screen featured by circular vibration and multi-layers. This type of vibrating screen is specially designed for screening material stone of a quarry, and widely used for product classification in mining, building materials, transportation, energy, chemical products industries. So, it's a kind of ideal equipment used in the crushing and screening unit. If the screen with small boring diameter is installed, the wet and sticky material can not be screened unless the water spraying method is used.
Circular Vibrating Screen'S  Highlights:
(1) It uses cylinder-type eccentric shaft and eccentric block to make strong vibrating force.
(2) Beam is connected to the main body with bolts, has the feature of high strength.
(3) The side plate of the screen box use the steel which make the boiler, the steel have high strength and strong impact-resistance.
(4) It adopts the structure of small amplitude, high frequency, large obliquity to make the screen with high efficiency, large handing capacity, long life span, low consumption, and little noise.
Circular Vibrating Screen'S Working principle:
The vibrating screen uses the motor to drive the eccentric shaft to make the screen body periodically along with the direction of vibration force. The materials make circular movement on the screen consists of vibration source, screen body, screen mesh, shock absorbing device, base frame etc. It has the features of reasonable structure and long durability.
 Circular Vibrating Screen'S specification:
| | | | | | | | | |
| --- | --- | --- | --- | --- | --- | --- | --- | --- |
| Model | Screen size (mm) | No. of Layer | Screen mesh (mm) | Max. feed size (mm) | Handling capacity (t/h) | Motor power (kW) | Vibrating frequency (r/min) | Double swing (mm) |
| 2YZS1237 | 3700×1200 | 2 | 3-80 | 100 | 10-80 | 11 | 750-950 | 5-9 |
| 3YZS1237 | 3700×1200 | 3 | 3-80 | 100 | 10-80 | 11 | 750-950 | 5-9 |
| 2YZS1548 | 4800×1500 | 2 | 3-80 | 100 | 30-200 | 15 | 750-950 | 5-9 |
| 3YZS1548 | 4800×1500 | 3 | 3-80 | 100 | 30-200 | 15 | 750-950 | 5-9 |
| 2YZS1848 | 4800×1800 | 2 | 3-80 | 100 | 50-250 | 18.5 | 750-950 | 5-9 |
| 3YZS1848 | 4800×1800 | 3 | 3-80 | 100 | 50-250 | 18.5 | 750-950 | 5-9 |
| 4YZS1848 | 4800×1800 | 4 | 3-80 | 100 | 50-250 | 18.5 | 750-950 | 5-9 |
| 2YZS1860 | 6000×1800 | 2 | 3-80 | 100 | 60-300 | 22 | 750-950 | 5-9 |
| 3YZS1860 | 6000×1800 | 3 | 3-80 | 100 | 60-300 | 22 | 750-950 | 5-9 |
| 4YZS1860 | 6000×1800 | 4 | 3-80 | 100 | 60-300 | 30 | 750-950 | 5-9 |
| 2YZS2160 | 6000×2100 | 2 | 3-80 | 100 | 80-400 | 22 | 700-900 | 5-9 |
| 3YZS2160 | 6000×2100 | 3 | 3-80 | 100 | 80-400 | 30 | 700-900 | 5-9 |
| 4YZS2160 | 6000×2100 | 4 | 3-80 | 100 | 80-400 | 30 | 700-900 | 5-9 |
| 2YZS2460 | 6000×2400 | 2 | 5-80 | 100 | 100-500 | 30 | 700-900 | 5-9 |
| 3YZS2460 | 6000×2400 | 3 | 5-80 | 100 | 100-500 | 37 | 700-900 | 5-9 |
| 4YZS2460 | 6000×2400 | 4 | 5-80 | 100 | 100-500 | 37 | 700-900 | 5-9 |