AIMEX2013 Olympic Park in Sydney of Australia
Australia kicked off, the exhibition attracted 17,382 from oil, gas, mining processing plant, electronics, electricity, telecommunications, transportation and other related industries, engineering, procurement and technical personnel and trade providers. China mining machinery manufacturing Gangster Liming Heavy Industry Science and Technology Co., Ltd. also participated in the exhibition.
Australia is more inclined to Europe over the old machinery and equipment, China mine development and there "small, scattered, chaotic, and poor" and many other issues, in this dual environment, Liming Heavy virtue of its "more efficient, cleaner and safer" to win Show the customer's favor, and in many brands stand out.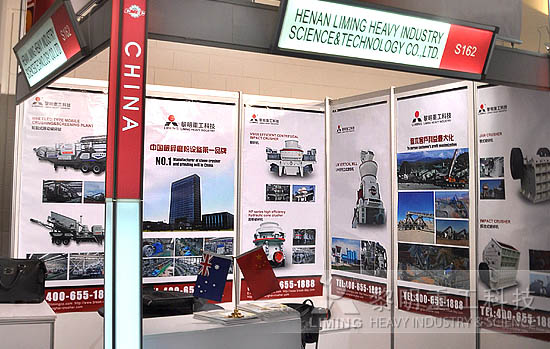 The exhibition includes mining machinery parts, mobile crusher, jaw crusher, cone crusher, hydraulic cone crusher, impact crusher, sand making machines, sand washing machines, grinding machines, vertical mill, ball mill, roller mill and Raymond mill, etc.
Liming Heavy hydraulic cone crusher, 5X sand making machine, vertical milling machines and other products in the exhibition by foreign customers attention, while Liming Heavy Industry delegation also paid a visit to Australia by the end of 2012 signed by the customer, our company designed the new type advanced mine mining production line is running well, the customer admired so much, and look forward to more cooperation.