Product introduction
TSW series vibrating feeder summarizing the design, production, sales and service experience in the mining industry for many years, TSW series vibrating feeder is our company's new efficient feeder which combines with the development of modern industrial technology, extensively absorbs foreign advanced technology and independent research and development and design.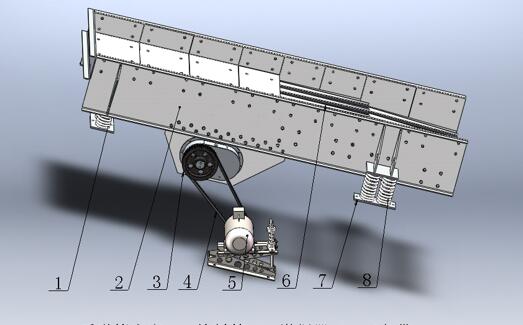 Performance advantage
Big feeding ability, high efficiency
The TSW series vibrating feeder all adopts the 4-pole motor which can enhance the rotary speed of the eccentric shaft immensely; The 2-stage grid bars and the installation angle highly promote the feeding ability and the working efficiency; With larger size and higher capacity, TSW series vibrating feeder can meet the requirements of efficient and intensive industrial production.
Adjustment control is convenient and accurate
TSW series feeder adopts Y series motor and frequency conversion controller, which is easy to adjust and more accurate in speed adjustment.
High reliability with enhanced supporting device design
Side plate and rear supporting board of the feeder adopt 16Mn steel plate; bottom plate and side guard plate adopt NM360 steel plate, which has high strength. It improves the body wear, and deduces the maintenance. The bar adopts ZGMn13-4 steel plate, which has stronger structure bearing, and lengthens the life.
Stable operation, easy maintenance
TSW feeder has simple and compact structure, small size, light weight, motor undercarriage fixed to the foundation, does not participate in vibration, increasing the reliability of equipment operation. 
Product Purpose and Scope of Application
Product Purpose:
TSW series vibrating feeder is widely used in crushing and screening devices in the industries of metallurgy, coal mining, ore dressing, building materials, chemical and abrasive. It will continuously, regularly and uniformly send the massive and granular materials from storage warehouse to the material-processing device. In the crushing line, it will feed continuously and uniformly for the crushing equipment and do pre-screening for the material.
Scope of Application:
1)The altitude should be not more than 1000 meters;
2)The environment temperature should be not more than +40℃;
3)When the environment temperature is between -35℃~40℃, the surrounding medium  relative humidity should be more than 85%;
4)There should be no explosive medium around;
5)There should be no medium that has serious corrosion or medium that affects electrical insulating around.
Structure
The TSW series vibrating feeder is mainly composed by the feeding tank, vibrator, grid bar, support frame of the bar, press plate of the bar, the front / back bottom seat of the spring, spring, motor, and v-belt. And the vibrator connects with the feeding groove by the high-strength bolts on 2 pieces of connection plates.
Picture 1: The assembly diagram of TSW series vibrating feeder
back bottom seat of spring 2. feeding tank 3. vibrator 4.v-belt 5. motor 6. grid bar 7. front bottom seat of spring 8.spring
Picture 2: The section view of TSW series vibrating feeder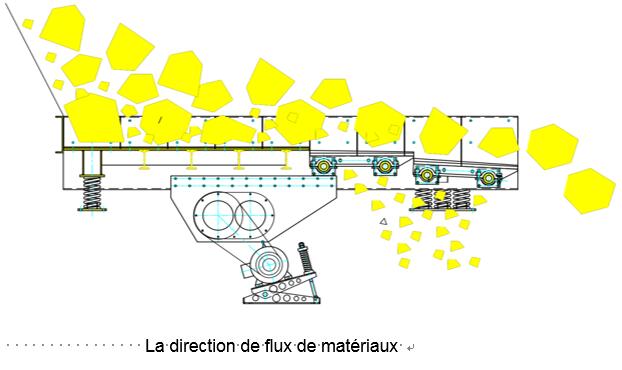 1. blocking plate 2. back bottom seat of spring 3.side guard plate 4.hot-rolled I-beam 5.bottom guard plate 6. :vibrator 7.support frame of bar 8.grid bar 9.:press plate of bar 10. spring 11.front bottom seat of spring
Working principle
TSW vibrating feeder's dual eccentric shaft exciter generates excitation force. A gear pair-connects the two eccentric shafts, enables the shafts rotate to opposite direction with same speed. Through motor driving, the excitation force generated constantly, the material slides and bounces ahead to crusher on the feeder groove. When material go through the feeder's grid bars, the smaller material will fall down through the gap between grid bars and be sent to next crushing process. It enables the feeder to pre-screen material and fully ensures the crushing plant's high crushing efficiency and capability.
Picture 3: Working principle diagram
Technical specification
Model
Maximum feed size (mm)
Capacity (t/h)
Rotation speed (rpm)
Groove size (mm)
Weight

(t)

Dimension

(mm)

TSW0936
500
130-280
750-900
960×3600
3.95
3680X2136 X1953
TSW1139
600
150-350
750-900
1100×3900
4.32
3980X2276X1953
TSW1345
700
250-450
750-900
1300×4500
4.97
4580×2570×1980
TSW1548
850
350-650
750-900
1500×4800
6.57
4880X2832X2044
TSW1852
1000
450-850
740-860
1800×5200
7.43
5280X3145X2059
TSW2156
1150
650-1000
700-850
2100×5600
9.86
5680X3520X2359
Form 1: TSW series vibrating feeder technical specification
Model
V-belt
Motor
VFD (KW)
Feeder driven wheel diameter (mm)
Motor wheel diameter (mm)
Model

Qty.

Model

Power (KW)
TSW0936
SPC2800
3
Y2-160L-4
15
15
Φ420
Φ244.6
TSW1139
SPC2800
3
Y2-160L-4
15
15
Φ420
Φ244.6
TSW1345
SPC2800
3
Y2-180L-4
22
22
Φ420
Φ244.6
TSW1548
SPC2800
4
Y2-200L-4
30
30
Φ530
Φ290
TSW1852
SPC2800
4
Y2-225S-4
37
37
Φ570
Φ290
TSW2156
SPC2800
5
Y2-225M-4
45
45
Φ600
Φ290
Form 2: Accessory parameter
Note: The feeder's capacity may be influenced by many factors: material physical and mechanical properties, material shape, feeding method and etc.The feeder's capability is based on the stone with middle hardness whose bulk density is 1.6t/m³.