As we all known that, Jaw Crusher Machines are widely applied for mining plants, such as limestone crushing plant, marble crushing industry ,coal mining industry and so on!
Problem  about the fixed plate life
Fixed portion plate wear is mainly friction and wear, jaw crusher ore is mainly done by the working board. The upper portion of the amount of wear is mainly friction and wear, even after the addition of the upper wear on the jaw crusher work does not adversely affect, after estimated service life of up to one year fixed plate, in specific applications, can be made two fixed panels, a job, a spare. It can reduce unnecessary downtime, improve the jaw crusher efficiency.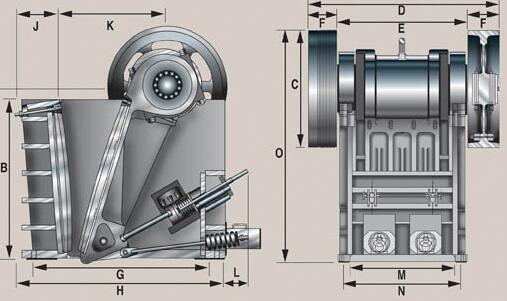 2. Problem about the fixing plate joining 
Fixing plate and working plate using flat head screws M30 connection. After fixing plate groove depth is 70mm, so the fixing plate and working plate by the action of the bolts that make them closely.
3. Question Abouth the Strength
In part design, can be connected to the fixed plate and work on both sides of the plate to take the tooth surface forming a cone of 30 degrees, and use a radius of 5-10 arc transition, to avoid stress concentration. In order to ensure that the overall strength of the fixed plate, the back plate can be thickened at work 30mm.
The above three points is the jaw crusher tooth plate fixed structural problems encountered in the transformation and reasonable deal with these three issues, we can transform the fixed tooth plate, improve operational efficiency jaw crusher.
To bring you an unexpected harvest!