By adopting the world's most advanced crushing and manufacturing technology, European type jaw crusher is mainly used for secondary and tertiary crushing of various medium-hard ores and rocks. European type jaw crusher has already become the most popular equipment in the world without controversy. It is the first choice for hard and strong abrasion material.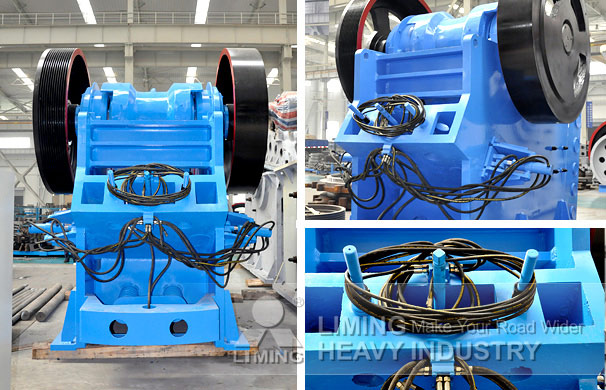 European Type Jaw Crusher's  Features:
1. World-level manufacturing technology is adopted, and highest-level raw material is used.
2. Central lubricating device are installed on the machine, so the bearing is easy to be lubricated.
3. Adjustment of the discharge part is more convenient.
The adjustment methods: gasket adjustment, hydraulic assistant adjustment, wedge block and wedge hydraulic adjustment.
4. More advanced movable jaw assembly lengthens life of crusher.
Movable jaw assembly is made from cast piece with high-quality, is driven by two large flying wheels which are made from cast steel. Moreover, heavy eccentric shaft is processed by forged mold. All of these make the JC series jaw crusher extremely reliable.
5. Integral cast steel structure is adopted for bearing seat. Integral cast steel bearing matches well with the crusher frame, at the same time, radial strength of the bearing seat is highly strengthened. However, the separate bearing seat does not have this advantage.
6. Finite element analysis technology is adopted to make the crusher much stronger.
7. Crusher chamber adopts "V" structure which could make actual feed width comply with the nominal one.
8. Bearing with larger model and higher load are used. All JC jaw crusher is equipped with larger bearing compared with same model of normal jaw crusher. Its higher load capacity and effective oil seal will lengthen the life of bearing.
9. A newly designed tooth-shape side plate, makes the available area of jaw plate longer, and enhances the capacity.
10. Pressing bar and support type are used to fix jaw plate.
11. Heavy type protecting plate is intalled for bearing seat, accidental damage of bearing seat is avoided.
12. Supporting bar under jaw plate protects movable jaw and frame from being worn down.
European Type Jaw Crusher's   Highlights:
1. Adopt world-level manufacturing techniques and raw materials.
2. Movable jaw assembly is made of high-quality cast steel piece. Forging blank is adopted for heavy eccentric shaft for processing, which makes the machine more reliable and endurable.
3. Integral cast steel structure is adopted for bearing saddle to guarantee full cooperation with crushing stander, which greatly enhances radial strength of bearing saddle.
4. Adoption of finite element analysis technology ensures much higher strength of the machine.
5. Crusher chamber adopts "V" structure which could make the actual feed width complies with the nominal one.
6. Adjustment device with discharge hole with wedge installed is simpler, safer and rapider than the old spacing piece.
7. Compared with crusher of other specifications, all machines of the series adopt more endurable and bigger eccentric shaft bearing; its higher bearing capacity and effective labyrinth seal make service life of bearing greatly prolonged.
8. The latest tooth-shaped guard plate is adopted to increase effective length of jaw plate and improve output.
European Type Jaw Crusher's   Working principle:
The motor transmits power through belt, drives the moving jaw to do periodic motion towards the fixed jaw by the eccentric shaft. The angle between toggle plate and moving jaw plate increases when moving jaw moves. So the moving jaw moves towards the fixed jaw. The stuff will be crushed in this process. The angle between toggle plate and moving jaw decreases when moving jaw moves down, the moving jaw moves leaves fixed jaw by pulling rod and spring, the final crushed stuff will be discharged from the outlet.
European Type Jaw Crusher's   Applications:
1. Used in crushing calcite
Calcite is one of the most important minerals. It is extremely common and found throughout the world in sedimentary, metamorphic and igneous rocks. In the form of limestone and marble it makes up a significant portion of Earth's crust and serves as one of the largest carbon repositories on our planet. The properties of calcite make it extremely useful as: construction materials, abrasives, agricultural soil treatments, construction aggregates, pigments, pharmaceuticals and more. So Calcite crusher is widely applied. The European type jaw crusher got good reputation in the clients for their calcite crushing operation.
2. Use in the gold mining
Gold content in the ore is very low. In order to extract gold, you need do gold mine crushing and grinding and pre-enrichment by using dressing method or separate gold from the gold mine. Our European Type Jaw Crusher is an important stone crusher (rock crusher), which has been developed to crush high or medium hardness material, such as iron ore, copper ore, limestone, quartz, granite, and sand stones, in metallurgical, construction, road building, chemical, silicate Industries.
3. Used in crushing gravel stone
In sand gravel plant, European type jaw crusher is used as primary crushing machine. European type jaw crushers are primarily used for reducing various kinds of stones and lump materials into medium-grained gravel. The materials to be crushed can be hard, medium-hard and soft minerals whose compressive strength should be not more than 320 MPa. Our European type jaw crushers adopt V-shape inlet, resulting in higher crushing efficiency. Currently, these products become the preferred primary crushing equipment in the production of stone.