Capacity:200-550ton
Beneficiation machines: Jaw crusher pe, impact crusher pf, hpt hydraulic cone crusher.
Ball mill,  Rotary dryer, and so on.
After crushing by the primary crusher jaw crushers, chrome grains are liberated or dissociated from the gangue and the mixed ore can be fed to the separation processing for the secondary processing stages.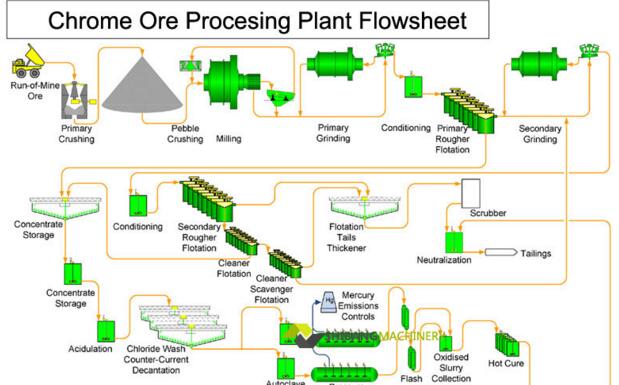 Chromite ore beneficiation machines are allocated according to the specific natures of the chrome ore. The main methods for chrome beneficiation are mainly gravity separation and magnetic separation. And the chrome beneficiation machines are also mainly gravity separators and magnetic separators. So at the beneficiation process, the equipments are quite different from each other because the chrome concentrating methods are different for different chrome ores. Many methods can be used in chrome ore beneficiation plants. The mainly chrome ore beneficiation method is gravity-separation.
The mainly chrome ore concentrating equipments are ore washing box (called jigger), table concentrators, spiral washer, etc. . Usually, the chrome ore can be upgraded by jigging machines firstly, and then the shaking table can be used for secondary upgrading as fine selection to get final high grade chrome concentrate.
Any more details, chat with us online!